Matthew Warner
Lost 29lb (14%) and maintained after 379 days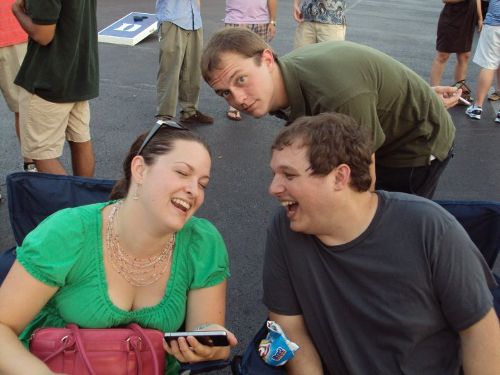 Before MyNetDiary
—
I used your product religiously for two years and it made a huge difference in my health and happiness
What made you decide to lose weight? What was the moment that made it "real"?
Like many overweight people, the weight gain crept up on me over the years until facing my mirror image produced negative emotions. I remembered from my high school health classes that the most effective way to lose weight was through the use of a food journal, so I searched 'food journal' on iTunes. I was surprised to find that such a comprehensive tool existed.
There were several moments in my weight journey that made it feel real. The first several weeks, I got very excited seeing my results line up nearly exactly to what MyNetDiary predicted for me. Crossing the line from obese to overweight on the BMI scale was a wonderful feeling. Months later, crossing from overweight to normal weight was an even better feeling. Buying a sewing machine and learning to tailor my own clothes after discovering that not one article of my old wardrobe fit was about as real as weight loss gets.
What diets or programs have you tried in the past? What results did you see with those?
I was on the wrestling team in high school and was encouraged to cut weight. My teammates accomplished this by starving and dehydrating themselves. I lost weight alongside my teammates, but left with an unhealthy level of misinformation. I avoided acknowledging that I needed to lose weight in the years that followed because I was convinced that grueling exercise and saint-like self-deprivation were the only effective means at my disposal. Thankfully, MyNetDiary set me straight!
Tell us how you have made progress so far. What specific changes did you make to your daily routine and lifestyle to achieve success? What strategies did you employ to make calorie tracking work for you?
I bought a personal scale and a food scale and measured just about everything I ever ate. I learned to cook and took up running. All these changes occurred very gradually and of my own volition. Having the information that keeping a food journal provides will inevitably lead to making smarter, healthier decisions.
How has MyNetDiary been instrumental in your achievements so far?
MyNetDiary gave me a steering wheel and a road map so that I could take control of my weight. At first, MND opened my mind to the caloric contents of everything I put in my body. This led me to reading a lot of nutrition and fitness literature.
I taught myself how to cook and now I cook almost every meal I consume. I no longer need to use my food scale because having measured everything for so long, I can eyeball measurements and regurgitate caloric facts like it's a superpower. My cooking is wicked-delicious, by the way.
After a year on MyNetDiary, I felt fit enough to run. I had always hated running -- after all, it's used as punishment in every other sport! At first, I was struggling to run a mile and my only motivation was to nudge the slope of the line displayed on my MND weight loss chart. Eventually, however, I discovered that I love running! I can run three miles before I break a sweat, six before I get winded, and ten before my leg muscles start to tire. That, too, feels like a superpower.
MyNetDiary is more than a food journal. It's behavior modification through information.
What roadblocks did you face while losing weight?
I had a surprisingly smooth experience with my weight loss. I set realistic goals, rarely faltered in tracking my calories, and trudged through with the long run in mind. There were weeks when I'd gain instead of lose, but they were mostly followed by weeks wherein I'd lose double. Viewing my weight loss from the long run perspective meant that my emotions were never tied up in any single weigh in.
When did you start seeing results? What will be your definition of success?
I saw results immediately. My definition of success has been a moving target. At first I just wanted to get out of the obese range on the BMI scale. Then I wanted to get to the normal weight range. Then I wanted to have a body fat percentage low enough to have visible abs. I accomplished all of these goals in exactly the timeframe that MyNetDiary predicted. Currently, I'm a bit heavier than I was when my abs finally started poking out from behind my belly fat, but I am very happy with my body and have the tools and knowledge to stay that way.
What do you do when you start feeling yourself slipping?
I didn't experience those feelings. I'm kind of nerdy so I love charts and graphs and raw data! Keeping up with my food journal was a hobby that I really came to enjoy and I've spent hours pouring over the spreadsheet data MND let me export via the website. I allowed myself to indulge on occasion as long as I kept track of it, because overwhelmingly my habits would trend toward weight loss. With that in mind, my indulgences never felt like slipping but rather living my life alongside my weight loss adventure.
What have been the biggest improvements in your life since losing weight?
I feel good looking in the mirror. My ego and confidence have experienced a massive upward swing due largely to the stream of compliments I started to receive once I started nearing the 16% body fat range. I can run, rock climb, mountain bike, and swim for pleasure now! I receive more consistent positive attention from the opposite sex than ever before in my life. My house rattling snore is gone. I enjoy clothes shopping. I enjoy being shirtless at the beach or pool. Cooking has become my favorite hobby. I learned to tailor my old fat clothes and I really enjoy that too. This may be over-sharing, but I have complete control of my sexual endurance now. That's a lot of improvements!
How long have you kept off your lost weight?
It took me two years of gradual, consistent weight loss to get to where I am today. It's been eight months since I took the training wheels off and started keeping a mental estimate of my daily caloric intake instead of relying on MND. I have gained back a few pounds, but nothing to fret over. MyNetDiary has taught me that all I have to do to control my weight is set a goal and pay attention to what I consume and expend!
Please share with the MyNetDiary Community your top three tips to help them on their journeys!
Measure your food. Accuracy is important. 100 calories here and there may seem insignificant, but 100/day is roughly 10 pounds per year. MND is all about information. If your information is not accurate then the tool is less effective.
Track everything! This is especially important starting out. It's good to know how many calories is in a 5 second spray of Pam cooking spray versus a tablespoon of oil. Being obsessive about tracking your food will keep you from faltering and, if you're like me, you'll come to enjoy the obsession.
Remove your emotions from the process, especially negative emotions. It's difficult not to kick yourself a bit when a weigh in shows a gain. And it's almost impossible not to give yourself a pat on the back when is shows a loss, but tying your emotions positively to the overall process instead of every little weigh in or tracked day will keep you sane throughout.