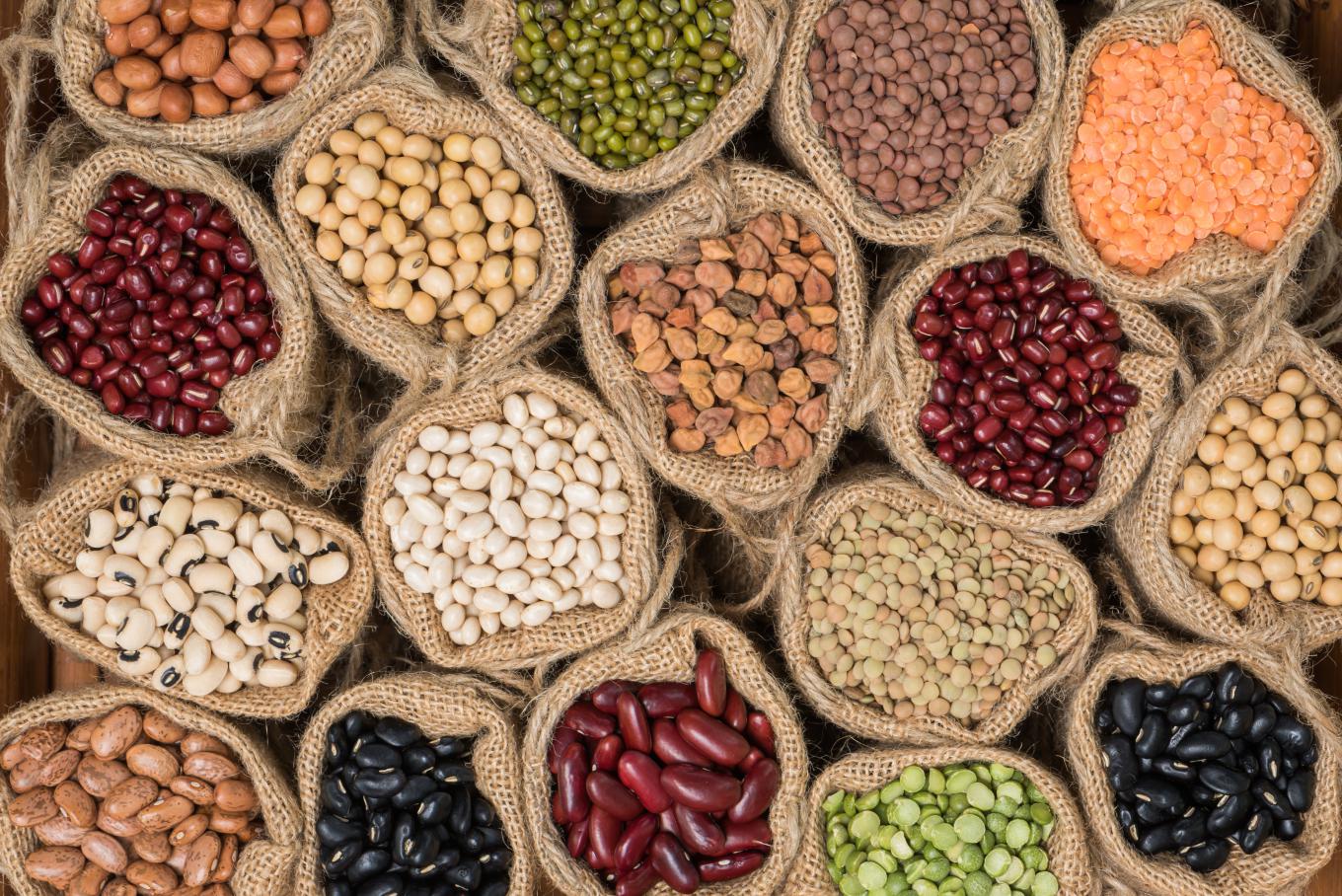 26 March 2019Two Easy Bean Recipes
What food aids in weight loss, while also helping to control blood sugar? If you guessed beans you are correct. Check out 2 of my favorite bean recipes and some of the many reasons I include beans in my diet.
Weight Loss Friend
Beans are naturally low in calories and high in fiber. They are important if you are trying to lose weight because they increase fullness and satiety without adding a lot of calories.
Beans cover all the bases when it comes to fiber
Beans contain both soluble and insoluble fiber. While soluble fiber helps lower cholesterol and decrease blood sugar spikes, insoluble fiber helps to add bulk to the stool to keep you regular. To learn more about other foods rich in dietary fiber check out:
https://www.mynetdiary.com/great-food-sources-of-fiber.html
https://www.mynetdiary.com/unexpected-good-food-sources-of-fiber.html

Plant Protein Power
Beans are a great source of plant protein. A 1/2 cup serving of cooked beans contains 7-8 grams of protein. This is the same amount of protein in 1 oz of cooked chicken.
Affordable
Beans win the award for the least expensive protein-rich food out there, especially when compared with meat.
Gluten-Free
Beans are naturally gluten free. They are versatile and can be used in soups, dips, salads and made into flours for baking.
Here are 2 of my favorite bean recipes
Roasted Chickpea Appetizer
Yield: 1.75 cups = 7 servings
Ingredients:
1 15 oz can of chickpeas or garbanzo beans
1 T extra virgin olive oil
1/2 tsp ground cumin powder
1/2 tsp ground chili powder
1/2 tsp garlic powder
1/4 tsp cayenne red pepper powder
1/4 tsp salt

Instructions:
Preheat oven to 400 degrees. Drain and rinse chickpeas then place in a medium sized bowl. Mix in olive oil to coat chickpeas. Next measure out spices and sprinkle on chickpeas. Mix to ensure an even coating. Transfer to baking sheet and bake for 15 minutes. Stir chickpeas. Bake another 15 minutes, stir chickpeas. Finally, bake another 10 minutes or until peas are crispy. Serve hot or cold.
Nutrition Facts: (Serving Size = 1/4 cup): 69 calories, 2.9g total fat, 8.6g total carb, 2.4g dietary fiber, 2.6g protein, 166 mg sodium
Quick and Easy Black Bean Tostadas
Yield: 2 servings
Ingredients:
1 cup black beans
1/4 tsp cumin powder
1/4 tsp garlic powder
4 yellow corn tortillas
1 cup lettuce, chopped
1/2 avocado, sliced
4 T salsa
2 green onions, diced
8 sprays, canola oil cooking spray

Cooking Instructions:
Preheat oven to 350 degrees. Lay corn tortillas out on a baking sheet, then coat both sides of each tortilla with non stick cooking spray. Bake for 6 minutes, then turn over each tortilla. Bake another 5 minutes or until golden brown. While corn tortillas are baking, heat 1 cup of black beans in a small skillet with cumin, garlic powder. Top each baked tortilla evenly with beans, lettuce, salsa, avocado and green onions.
This is a tasty meal, though very messy. Make sure you have extra napkins handy. Enjoy!
Nutrition Information (serving size = 2 tostadas): 347 calories, 10g total fat, 53g total carb, 15g dietary fiber, 12g protein, 123 mg sodium.
*How to Copy These Recipes from MyNetDiary
These recipes are entered and analyzed in MyNetDiary so you don't need to enter them from scratch. Instead, you can copy and edit the recipe easily by logging into MyNetDiary via the web program. Next, go to Community, and then search "Dietician" with "People" chosen in the drop down box. Click on "Dietician" link. Scroll down Dietician Personal Page and find Custom Catalog. Find the recipe. The recipes in blog are listed as: Roasted Chickpea Appetizer MND Dietician and Quick and Easy Black Bean Tostadas MND Dietician. Copy recipe by clicking "copy" link on the right side of the screen. Once you do that, you can use a recipe in your own food log without having to enter it yourself. This recipe is also found in Dietitian account - so you can copy from either account.
Note: If you have Premium membership, you can copy and customize recipes or foods. In web program, go to Food tab, tap "Log" in any meal row, then tap MyFoods, find the food or recipe and then choose "copy & customize" option. You can modify any field to customize the recipe (ingredients, yield, name, etc.).
---
Joanna Kriehn is a Registered Dietitian Nutritionist and Certified Diabetes Educator with a passion for supporting individuals as they move towards a healthier lifestyle. You can learn more about Joanna by visiting her LinkedIn page

Have questions or comments about this post? Please feel free to comment on MyNetDiary's Community Forum or Facebook page – We would love to hear from you. And consider visiting our new Pinterest page!

Disclaimer: The information provided here does not constitute medical advice. If you are seeking medical advice, please visit your healthcare provider or medical professional.




This article can be found at https://www.mynetdiary.com/two-easy-bean-recipes.html