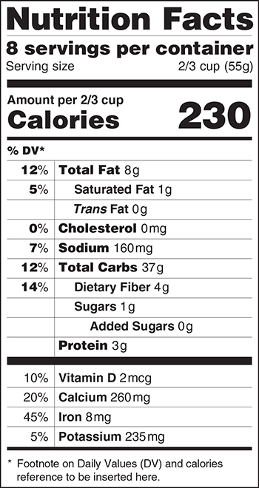 For the first time in two decades the U.S. Food and Drug Administration is proposing to significantly update Nutrition Facts labels on packaged foods.
Must read post if you struggle with calories counting — it focuses on hidden sources of error. The Nutrition Facts information could differ from the true caloric cost of a food or drink.
There is more than meets the eye when it comes to really understanding what is in our food. Be aware of these common "tricks" found on food labels and always read the Nutrition Labels.
Details, Details, It's What Matters When Dieting – Watch Those Labels! When grocery shopping, we often don't have the same mentality as "window shopping," but perhaps we should. When we're shopping for clothes we are faced with those slim plastic models showing off how this shirt may look with those...
Nutrition Facts Labels Now Required on Meats Back in 1993 the USDA made nutritional labels on meat completely voluntary. Last week, however, the USDA made them mandatory. The new rule affects all ground meat and ground poultry, as well as 40 of the most popular cuts found in the U.
Taking Nutrition at Face Value? Try Using a 'Hand Value' Instead The FDA has recently proposed a rule (and passed it ) requiring all restaurants and business whose primary purpose is selling food with 20 or more chains to post nutritional information for all foods on their menus (except...
Disclaimer: The information provided here does not constitute medical advice. If you are seeking medical advice, please visit your healthcare provider or medical professional.
This article can be found at https://www.mynetdiary.com/blog.html